BF Beds has built it's reputation over the last 5 years on our efficient, flexible delivery service.
Ultimately our goal is to ensure that you get a product you love and a service to suit you. If you have any questions then please do not hesitate to call us on 0113 203 8231 and we will be happy to help.
All delivery services are subject to availability.
Shipping Zones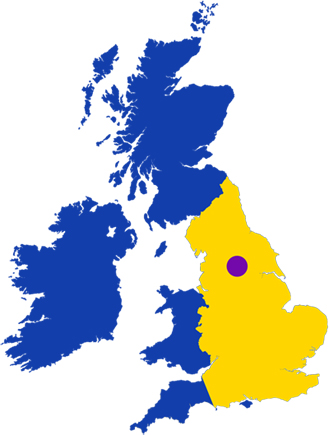 Map Key
| Colour | Zone Name | Postcodes |
| --- | --- | --- |
| Purple | Leeds & Surrounding Areas | LS*, HD*, WF*, HX*, HG1, HG3, HG5, BD1-BD9, BD1*, BD20 |
| Yellow | Outside Leeds & Surrounding Areas | The rest of England except for Cornwall, Offshore Islands and the following postcodes: LS*, HD*, WF*, HX*, HG1, HG3, HG5, BD1-BD9, BD1*, BD20. |
| Blue | Please Call | Scotland, Wales, Northern Ireland, Offshore Islands and Cornwall please call for shipping prices as we have to get a price from our carrier on a per order basis. |
| Colour | Shipping Cost |
| --- | --- |
| Purple | FREE delivery on all products. |
| Yellow | £39.99 per item, items over £400 free delivery |
| Blue | Please Call showroom for prices. |
We will do our best to work around you with regards to delivery times. However there are lots of factors that can effect delivery times such as traffic and adverse weather. We ultimately cannot be help responsible for any delays due to factors beyond our control.
The usual lead time for deliveries is between 2-5 working days depending on goods and location. Delivery times can be affected by third party carriers, adverse weather or any number of other factors. In the unlikely event that a delivery is delayed for any reason. If your delivery does not arrive on the agreed date the customer must contact BF beds immediately to enable us to make enquiries. We do hold some stock at the showroom so by all means give us a call and we may have certain items available for same day delivery.
Leeds & Surrounding Areas
Delivery to Leeds and surrounding areas is free with no minimum order. We class Leeds and surrounding areas as the following postcodes:
All Leeds postcodes
Bradford BD1-20
All Wakefield postcodes
All Halifax postcodes
All Huddersfield postcodes
Harrogate – HG1, HG3 & HG5
In Leeds and Surrounding Areas we offer the following delivery options:
Pick up from store – FREE
Standard – A one man delivery service to your front door (FREE) Available Monday – Saturday.
Outside Of Leeds & Surrounding Areas
Outside of Leeds and surrounding areas includes the rest of England except for Cornwall and offshore islands. Items over £400 are free and under £400 are subject to a £39.99 carriage fee. For 3 or more items under £400 we may be able to reduce the carriage cost. Please call the showroom for more information.
Other Areas
For Wales, Scotland, Cornwall, Northern Ireland and all offshore islands please ring the showroom for a price. Costs vary and we need to check with our carrier for each order.
All orders placed on this website are subject to our Terms and Conditions.
Removal of old beds and mattresses
BF Beds can remove and dispose of your old beds and mattresses. The cost for this service is £30 for 1 mattress or bed only or £45 for a base and matttress. This is simply to cover the cost we incurr disposing of the goods as it is classed as commercial waste and there is a charge. Old beds will only be removed if already dismantled and downstairs. Please contact BF beds if you would like this service.
Please note: this service is only available with prior arrangement over the telephone or in person in the showroom.
Delivery Times
Our delivery times are monday, tuesday, wednesday and friday, 11am until 8pm.