BF Beds has built it's reputation over the last 5 years on our efficient, flexible delivery service.
Ultimately our goal is to ensure that you get a product you love and a service to suit you. If you have any questions then please do not hesitate to call us on 0113 203 8231 and we will be happy to help.
All delivery services are subject to availability.
Shipping Zones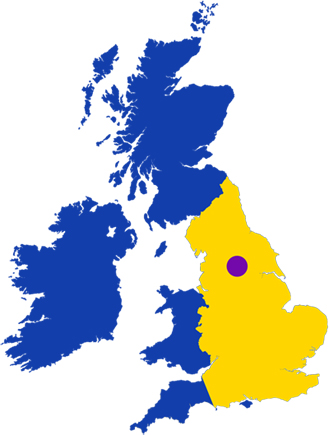 Map Key
| Colour | Zone Name | Postcodes |
| --- | --- | --- |
| Purple | Leeds & Surrounding Areas | LS*, HD*, WF*, HX*, HG1, HG3, HG5, BD1-BD9, BD1*, BD20 |
| Yellow | Outside Leeds & Surrounding Areas | The rest of England except for Cornwall, Offshore Islands and the following postcodes: LS*, HD*, WF*, HX*, HG1, HG3, HG5, BD1-BD9, BD1*, BD20. |
| Blue | Please Call | Scotland, Wales, Northern Ireland, Offshore Islands and Cornwall please call for shipping prices as we have to get a price from our carrier on a per order basis. |
| Colour | Shipping Cost |
| --- | --- |
| Purple | FREE delivery on all products (T&C's apply). |
| Yellow | £45 per item, items over £400 free delivery |
| Blue | Please Call showroom for prices. |
We will do our best to work around you with regards to delivery times. However there are lots of factors that can effect delivery times such as traffic and adverse weather. We ultimately cannot be help responsible for any delays due to factors beyond our control.
The usual lead time for deliveries is between 2-5 working days depending on goods and location. Delivery times can be affected by third party carriers, adverse weather or any number of other factors. In the unlikely event that a delivery is delayed for any reason. If your delivery does not arrive on the agreed date the customer must contact BF beds immediately to enable us to make inquiries. We do hold some stock at the showroom so by all means give us a call and we may have certain items available for same day delivery.
Leeds & Surrounding Areas
Delivery to Leeds and surrounding areas is free with £100 minimum order. We class Leeds and surrounding areas as the following postcodes:
All Leeds postcodes
Bradford BD1-20
All Wakefield postcodes
All Halifax postcodes
All Huddersfield postcodes
Harrogate – HG1, HG3 & HG5
In Leeds and Surrounding Areas we offer the following delivery options:
Pick up from store – FREE
Standard – A one man delivery service to your front door (FREE) Available Fridays
Outside Of Leeds & Surrounding Areas
Outside of Leeds and surrounding areas includes the rest of England except for Cornwall and offshore islands. Items over £400 are free and under £400 are subject to a £45 carriage fee. For 3 or more items under £400 we may be able to reduce the carriage cost. Please call the showroom for more information.
Other Areas
For Wales, Scotland, Cornwall, Northern Ireland and all offshore islands please ring the showroom for a price. Costs vary and we need to check with our carrier for each order.
All orders placed on this website are subject to our Terms and Conditions.
Removal of mattresses
BF Beds can remove and dispose of your old mattresses. The cost for this service is £40 for 1 mattress. This is simply to cover the cost we incur disposing of the goods as it is classed as commercial waste and there is a charge. Please contact BF beds if you would like this service.
We only offer a one man service so we do not remove super king mattresses.
We reserve the right to refuse the removal of any items which require a 2 man lift due to health and safety.
Please note: this service is only available with prior arrangement over the telephone or in person in the showroom and must be booked in conjunction with ordering a new bed or mattress from us.
Delivery Times
Our standard delivery day is Friday and all deliveries within West Yorkshire are free on Fridays. Delivery is available on other days subject to a standard surcharge of £20.
We have a two man team available 6 days a week which is £30 to a room of your choice or £40 assembled in the room of your choice.
Please note when ordering multiple items you may receive more than one delivery on separate days depending on which suppliers the products are from. Please call if you are unsure.
This service is available across the whole of West Yorkshire.
1. A Standard free one man delivery includes delivery of goods to your doorstep only. Due to insurance reasons our one man teams are unable to assist any further than this.
Returns & Damages
Once an order has been placed all returns must be made within 30 days of receipt. All returned goods must be in their original packaging unopened and unused. Returns are made at the customers expense of £49 per item. Under no circumstances can a mattress be returned if it has been opened. This is for hygiene reasons. If the mattress is faulty you can make a claim under the 12 month warranty as detailed below. Your statutory rights are not affected.
If the goods are damaged when you receive them you can sign for them as damaged or refuse the delivery. If you do not sign for damaged goods as damaged then we are unable to claim for a refund from the carrier. We must be notified of damaged goods within 48 hours. In the unlikely event of damages the goods will be returned to the manufacturer for inspection and monies will be refunded within 21 days from receipt of goods. All cancelled orders will still be subject to a £49 cancellation admin fee. When you receive your delivery please inspect it thoroughly for any signs of damage as we cannot claim from our courier for damage if you sign for the goods in good order. If there are signs of damage then you must sign the delivery note as damaged goods.
In the event that individual parts are missing or damaged please notify us ASAP and we will arrange for replacements to be sent at the earliest convenience.
Out Of Stock & Discontinued Items
At BF Beds we do our utmost to make sure the products and stock listed on our website are accurate at all times. There are however times when products will be out of stock at our wholesale suppliers or even discontinued. When ordering from our website we strongly advise to ring up prior to placing your order if you are paying via debit or credit or credit card. Cancelled credit / debit card orders due to discontinued items are subject to a 3% charge which we must pass on to the customer. For orders when the products is out of stock the next available delivery date will be offered. Alternatively in cases where the product is out of stock or discontinued. A product of equal or higher value will be offered by BF Beds.
Warranties
All products sold by BF Beds are covered by a 12 month manufactures warranty. This covers manufacturing faults and not wear and tear or damage. If you think your product is defective from it's intended purpose due to a manufacturing fault at any time during the twelve months after your purchase. Then please contact us for a replacement or repair.  Photographs and part numbers may be required as evidence. We do not call out to homes to inspect goods. Refunds are available for faulty goods within 30 days of purchase. After 30 days has expired you will be offered replacement goods only.
Your Contact Details
In order to gather feedback and stay in touch with our customers. We retain contact details such as your phone number and email address. We may contact you by telephone in the weeks following a purchase as a courtesy to see that your products are up to expectations and if there is anything else we can do to give you the best customer service experience possible. We may also contact you via email with occasional updates and special offers. We will never sell or share your details and you can opt out of these communications at any time. Just let us know and we will remove your details from our database.
Our full Terms & Conditions can be found here
These terms and conditions are subject to change